The WordPress platform takes security very seriously. Even so, no system is 100% user-proof, and the platform is rife with vulnerabilities. Companies that provide WordPress support services are often flummoxed when their clients claim that their websites have been hacked.
Unfortunately, WordPress is a popular target for hackers. This is because it is used by millions of people across the globe. WordPress powers more than 28% of all websites on the Internet. It uses the MySQL database to handle page content, so you must keep it updated.
There's nothing more damaging to a site's reputation than being hacked. Not only are you left feeling violated, but it also makes existing, and potential customers question whether your site can be trusted.
WordPress hacks are one of the fastest-growing issues online. As of today, WordPress has a 60.8% market share in the CMS market, and it continues to grow. An increasing number of WordPress users and businesses are facing a WordPress hack attack.
To avoid being a victim of a WordPress hack, every website owner should take the necessary precautions to secure their website from cyber-attacks and hackers. If your WordPress website has been hacked, take these steps to resolve the issue.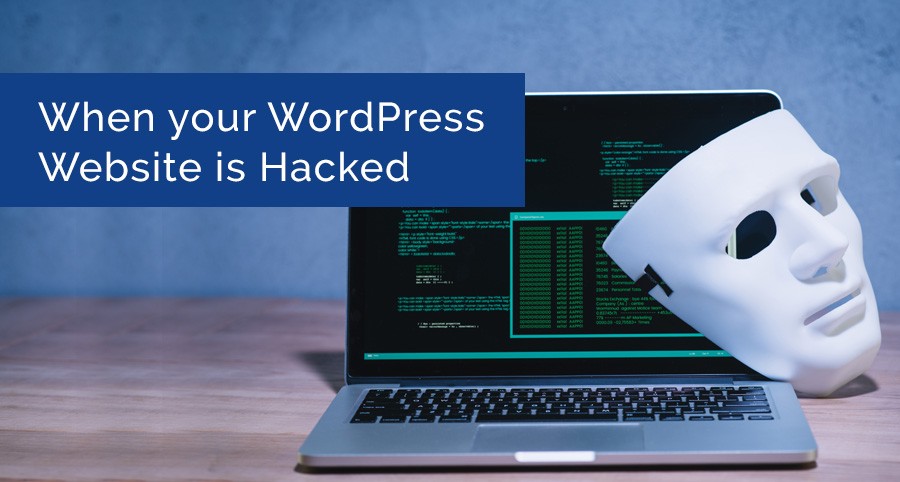 What should you do if your WordPress Website is hacked?
Scenario #1: If you are the website owner, follow the process
If you've been hit by a WordPress malware or hack attack, you need to act quickly to ensure that your site gets cleaned up. It can be a daunting task, but it doesn't have to be. The key is taking the right steps in the correct order.
Stay Calm: It's easy to feel like the world has just come to an end when you find out that your website has been hacked. But, take a deep breath because there are things you can do to stop this from happening again.If your website has been hacked, you should not panic. It is possible to remove the bug and restore your website. Hackers always use the same method to inject malicious code into a site's theme or plugins. They change something in the instructions that are stored in a site's database; therefore, if you follow the proper steps and fix the vulnerabilities, it is possible to restore your website.
Try to locate the hack (if possible): Go through this quick list of questions. Ask yourself:
- Are you able to log in to your WordPress Admin Panel (yourwebsite.com/wp-admin)?
- Is your website redirecting you to some other website?
- Does your WordPress website contain any illegal links?
- Has Google already marked your website as insecure?
Record your answers to each question, and make sure that you've noted everything for the next step below.
Contact your hosting company: The hosting companies are very helpful in these situations. That's why before doing anything yourself, get in touch with your hosting provider and follow their advice.
Hire a Professional: If for some reason, your hosting company is unable to help you or resolve the issue, you have got the professionals who can do it. They have a team of experienced WordPress Developers who is efficient and capable enough to help you in this situation. A vulnerable website only worsens as time goes on, so the faster you can get your issues fixed, the safe your website will be.
It is most likely the best solution for you if you don't consider yourself tech-savvy or you don't want to mess anything up while you're trying to clean your site. It's easy to make things worse instead of better in these situations, so if you're not comfortable making significant changes to your site's back-end, it may be time to ask for support.
Contact Webplanners at (03) 9510 0717 or write us an email at This email address is being protected from spambots. You need JavaScript enabled to view it., and we will be on the task to fix it as quickly as possible.

Still, if you think you can manage it yourself, keep on reading further, and you can learn something and have your hands-on experience over troubleshooting the hacked WordPress website.
Scenario #2: If you are a new WordPress Developer.
If you're a developer with a fresh set of skills, then you're probably excited to execute the projects you've got in the pipeline. However, you might run into a pretty big roadblock if you don't know how to address and fix hacks to your website quickly. Instead of panicking, you need to start by taking into consideration several points.
Here is a step-by-step guide to clean up your hacked WordPress website.
Backup the Site Files and Database, including wp-config.php
Download and examine the backup files. The .zip file should contain the following folders:
All the WordPress Core files: You can download WordPress from WordPress.org and check out the files in the download and match them to your own.
The wp-config.php file. This is important as it contains the name, username, and password to your WordPress database, which we will use in the restore process.
The wp-content folder. You should see at least three folders in the wp-content folder: themes, uploads, and plugins. Look in these folders, do you see your theme, plugins, and uploaded images? If so, then that's a good sign you have a good backup of your site. This is typically the only mission-critical folder you need to restore your site (in addition to the database).
The database. You should have an SQL file that is an export of your database. We will not delete the database in this process, but it's good to have a backup.
Delete All the Files in the public_html folder: After you have verified that you have a complete backup of your website, delete all the files in your public_html folder (except the cgi-bin folder and any server related folders that are free of hacked files)
Reinstall WordPress: Referencing the backup of your website, edit the 'wp-config.php' file on the new install of WordPress to use the database credentials from your former website. It is not recommended to re-upload your old wp-config.php file. The new one will have unique login encryption salts and will be free from any hacked code. Restore plugin folders
Restore theme folders
Restore upload folder
Restore wp-config.php
Scenario #3: If you are an experienced developer:
After you are done with the above process:
Reset Passwords and Permalinks: Login to your site and reset all admin/super user names and passwords. If you see any users you don't recognise, your database has been compromised, and you need to contact a WordPress professional to make sure no unwanted code has been left in your database.
Go to Settings > Permalinks and click Save Changes. This will restore your .htaccess file, so your site URLs will work again. When you deleted files on your server, you showed invisible files, so you didn't leave any hacked .htaccess files behind. .htaccess is a hidden file that controls many things on the server and can be hacked to redirect people from your site to other sites maliciously. Be sure to reset all FTP and hosting account passwords as well.
Reinstall Plugins: Reinstall all your plugins from the WordPress repository or new downloads from the premium plugin developer. Never install old plugins; you never know if they are corrupted. Do not install plugins that you no longer need.
Reinstall Themes: Reinstalling your theme from a fresh download will ensure that there is no corrupt file. If you customised your theme files, reference your backup files and replicate the changes on the new copy of the theme. Do not upload your old theme, as you may not recognise which files have been hacked.
Upload Your Images from the Backup: Now is the tricky part. It would help if you got your old image files copied back up to the new wp-content > uploads folder on the server. However, make sure that you don't want to copy any hacked or infected files in the process. To avoid such an error, you need to carefully examine each and every year/month folder in your backup. It is a bit tedious task, but the consequences of not doing it can cost you more. So, you will have to look inside each folder and make sure that there are only and the only image files nothing else (other than the files you uploaded to your Media Library), specifically no PHP files or JavaScript files.
Scan your system: Scan your computer for any possible viruses, trojans, and malware.
Install and Run Security Plugins: Run your Anti-Malware Security and Brute-Force Firewall and scan the whole website thoroughly.
A hacked WordPress site can be a nightmare for both the business and its customers. For customers, it means that they may have to start using their password on other sites to make sure that the hacker doesn't get access to their other accounts. For businesses, it's a much more serious problem—if their website is hacked, it could mean losing a lot of money.
If you're not careful, you could be hacked and leave yourself open to some serious security issues. At this stage, you need help.
There is nothing to worry about because our team of security experts can easily fix the issue for you. We are one of the expert website security companies that can help you get rid of the unwanted code from your website.