As a small business owner what's that one thing you keep looking for? Quite obvious, new ways to get your company's brand on the radar of potential customers.
Most small businesses run on stringent marketing budgets and are very careful about what type of marketing strategies they should invest in. It becomes crucial especially when you have a limited marketing budget. Spending wisely is the only intelligent decision.
Social media is one of the versatile platforms that small business owners must use for marketing. It is one of the most cost-effective marketing strategies that you can use to reach the target audience and boost sales over time. That's the reason why 97% of marketers ae using social media to reach their audience.
The point where small business owners and marketers get discouraged is seeing how big players in the industry are pushing thousands and thousands of dollars into Facebook ad Campaigns & other Paid campaigns and posting every minute on Twitter. But the fact of the matter is – you need to start now. Every step count and will take you closer to your business goal.
Small business social media marketing strategies actually have an advantage over big companies. Why? Social media effectiveness boils down to engagement. If a business doesn't engage with its customers, chances are it won't have success in social media marketing.
Using social media as a marketing tool can help you grow your brand and pad your wallet. If you're not taking advantage of social, you're missing out on a fast, inexpensive, and effective way to reach almost half the world's population.
Following are a few reasons as to why small businesses need social media marketing now:
To Grow Brand Recognition
Social media marketing will make it easy to spread the word about your products, services, vision and mission. With nearly half of the world's population using social media platforms, they're a natural place to reach new and highly targeted potential customers.
It helps you improve visibility, and thus increase recognition for your brand. Your business social media profiles present new opportunities to share your content and really present your brand's voice and personality.
Increased Inbound Traffic
Using social media and linking it to your website will increase your traffic tremendously. Social media posts and ads are key ways to drive traffic to your website.
Sharing great content from your blog or website to your social channels is a great way to get readers as soon as you publish a new post. Each piece of content that you post to your social media profiles is another opportunity to bring new visitors to your site.
This makes marketing through social media an excellent strategy to complement your search engine optimization efforts.
In order to get the most inbound traffic possible, it's important that you consistently publish content that is engaging and adds value for your target audience.
Generate Better Leads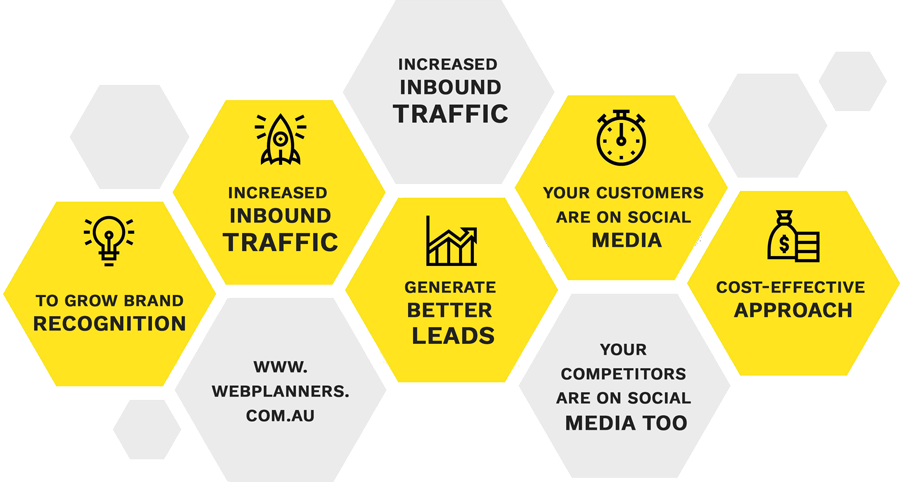 Most brands rely on search engine optimization and PPC ad traffic to find and engage new leads. However, marketing through social media can be an excellent outlet for bringing in new consumers. Connecting with your target audience can be easy if you are active on the channels that they use most often.
If you aren't already on social media, you could be missing out on an important chance to connect with your customers and engage new leads. Lead generation is such an important benefit of social media for business that many social networks offer advertising formats specifically designed to collect leads.
Your Customers are on social media
Like we said earlier, nearly 3.8 billion people use social media. Hence, your small business should market through social media because your customers are spending time on these channels. With so many consumers using social media every day, this presents a great opportunity for small businesses who want to reach their online audience.
Cost-Effective Approach
Many small businesses can't afford a radio, TV or billboard ad campaign, but they can surely afford to use social media & digital marketing techniques to reach out and engage with ideal audiences.
Most of your social media results will come from investing time in creating and publishing content as well as having conversations with your fans and followers. The good news is that even just a few hours a week can have significant results.
Depending on your goals and the scope of your campaign, it is relatively inexpensive to run paid ads on social media channels like Facebook and Twitter. No matter how small your budget is, you are still able to make an impact on these channels to reach and convert new leads.
Your Competitors are on Social Media Too
No matter what you are selling, what industry you are in or what your target market is, chances are high that your competitors are already present and involved on social media channels.
If you want to remain competitive in the digital marketplace, it's vital that you start working toward building a presence on social media. Social media content allows you to not only show a little bit of your brand personality, but it also presents an effective outlet for demonstrating your industry expertise and knowledge. This is one of the best ways to set yourself apart from the competition and bring in more relevant online traffic.
Keep Your Customers Up-to-date
Social media is one of the best and easiest ways of keeping your customers updated with your new products or upcoming events. If your business makes a huge announcement about a new product or an exciting event, it'll catch on and get people excited.
Here are some stats to support the fact that small businesses need social media marketing:
Nearly 50% of the world's population uses social media. That's over 3 billion users worldwide. (Statista)
Each person spends an average of 2 hours and 22 minutes on social networks and messaging. (Globalwebindex)
54% of social browsers use social media to research products. (GlobalWebIndex)
73% of marketers believe their social media marketing efforts are somewhat working for their business.
321 million new people joined social media in 2019, which brought the total from 3.48 billion to 3.8 billion social media users (an increase of 9%) in 2020. (Hootsuite)
71% of consumers who've had a good social media service experience with a brand are likely to recommend it to others. (Ambassador)
73% of marketers believe that their efforts through social media marketing have been "somewhat effective" or "very effective" for their business. (Buffer)
Social networks are the biggest source of inspiration for consumer purchases with 37% of consumers finding purchase inspiration through the channel. (PWC)
Social media is the most relevant advertising channel for 50% of Gen Z and 42% of millennials. (Adobe)
50% of consumers say that seeing user-generated content would increase their chances of buying products through a brand's social media. (Curalate)
Final Thought!
There are plenty of benefits, we just highlighted the most basic ones for small businesses to get started with. If you're still on the fence about adopting social media marketing for your business, hopefully, the benefits of social media marketing mentioned above has put you on the right path!
If you need any help building your social media presence, creating a plan and strategy and delivering an effective execution, Webplanners is here to help. Our team knows just what it takes to build and maintain a thriving social media audience for small businesses.