SEO is essential for everyone, for website owners, brands of all sizes, and digital marketers because it can lead you ahead of the competition. For instance, if two websites are selling the same thing or offering the same services, an SEO optimized website will get more customers and is likely to make more sales, organically.

In the future, the online competition will become more intense, and we at Webplanners believe that it is the right time to rethink your marketing and invest in SEO strategy.

It is crucial to catch up with SEO trends this year to create an effective, robust, and long-lasting SEO strategy.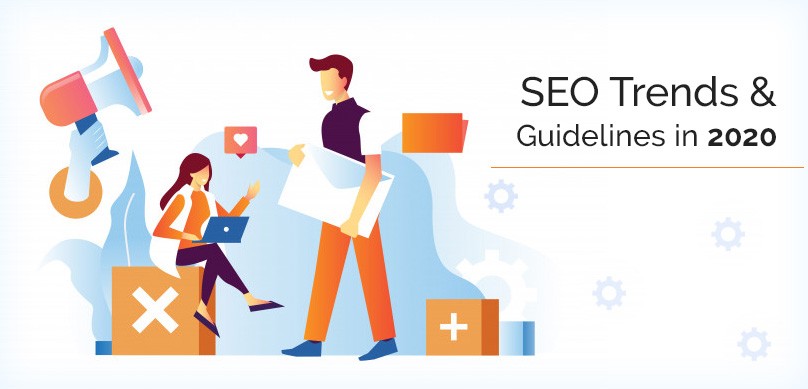 Following is a list of SEO trends for 2020 that can help you drive organic traffic and improve search rankings.


SEO Trends to focus in 2020


Mobile-first – Since July 2019, Google moved to Mobile-first indexing. Therefore, in 2020, your entire SEO strategy should be mobile-driven. Mobile phone screens are small and do not always support plugins like Flash. Use HTML 5 To add special effects to your webpage. A website that is not responsive may lose a lot of potential customers.

Voice search – Voice search is a growing trend for smartphone users these days. Voice search is convenient and quick. We can assume what the future scenario will look like, as people are already used to Alexa, Siri, Cortana, Google assistant, or smart helpers in their everyday lives.

Videos – Videos are a crucial part of your digital marketing strategy. Videos attract and engage more users as compared to text. They will stick around longer if they see a video of their interest. The average time a user spends on your website is a factor that Google considers to be important. The longer visitors stay on your website, the better it is for your search rankings. Video marketing will be the key digital marketing trends for 2020. We are already witnessing a shift in people adapting to digital methods in this COVID-19 pandemic. Hence, making videos a part of your SEO strategy is a great way to improve brand engagement.

Keyword research will be more critical – Keywords are the foundation stones on which you build an SEO campaign strategy. No matter how the user searches, where it's a voice search or text search, keywords are a primary factor for better search rankings. Do not include all the popular keywords related to your industry. Instead, focus on the keywords that are more specific and targeted to the products and services you offer.

User experience – You can't ignore the value of user experience (UX) for SEO, especially when Google emphasizes it. If users have a pleasant experience on your site, they will stay on your site longer. Good UX helps you increase the average time on page, and Google will consider it as an excellent signal to improve your website rank. To retain viewers to stay on your site, it is indispensable for informative and useful content. Content could be videos, images, infographics, etc. The intent should be to make your content more meaningful, engaging, and attractive. Elements such as site speed, enhanced content, responsive & user-friendly design improve user experience.

Influencer Marketing & Engagement Metrics - Engagement Metrics will play an important role. Google evaluates the effectiveness and quality of your content and then rank it in the search results. And, brands that an influencer endorses will have a direct and positive effect on engagement metrics. Google sees influencer brand endorsements as trustworthy, thus resulting in higher rankings, traffic, and conversions. The parameters or factors that play an essential role in rankings are; bounce rate, dwell time, time on page, return visit, click to call, comments & social shares.

Optimize Google My business listings - Google My Business is a powerful tool and does not require much maintenance. One of the most significant advantages of Google My Business is its impact on local searches. Entity popularity & entity authority will dominate local SEO.

Featured Snippets – Popularly known as the "zero position." It is the summary of the text that appears at the top of Google's search results that is designed to answer a searcher's query, instantly. The featured snippet is displayed above the organic results. So, if you're able to get your content in Google's featured snippet, you can give your organic click-through-rate (CTR) a serious boost. It also helps you beat the competition, including a site that ranks #1 for the particular search result.

SEO-Ready Imagery for Rich Content – Image optimization for visual search (all or part of the image) is critical, and it demonstrates SEO-readiness and relevance in non-text content. If images don't add value or more information to a page, they're no longer useful and shouldn't be there. So, optimizing images on your eCommerce website can demonstrate excellent results in 2020 and years to come.

Web security – Though it doesn't have much to do to your SEO, it does make an impact on your website visitors. Users never want to browse a website that is not secure, especially in the case of an eCommerce website. The website that doesn't have an HTTPS or a green "secure" sign before the address is considered unsecured. Users may leave your site quickly if they do not see a secure domain, and the bounce rate may increase, and your site's position in the organic search results may go down.


SEO Guidelines to Follow in 2020

Search Engine Optimization is the key if you want to get more organic traffic to your website. Following are a few ethical techniques sticking to the guidelines and rules into the current SEO trends, let's see what you can do to rank higher in the search results.
Keep up with Google core updates - Whenever Google rolls out a core update, there's some major change made to its search algorithm and because of which the website traffic witnesses a negative or positive impact. In most cases it's the negative impact. According to this update, the preference would be given to more accurate and relevant pages. For example, you created a list of "top 10 SEO companies in Melbourne" in 2015, and few years later, say in 2020, you refresh the list. It's going to naturally change.  You may see some new companies coming in that never existed in 2015 will now be candidates for inclusion. You might realise a few companies deserve a higher place now on the list than they had before. You should be focusing on ensuring you're offering the best content you can.


Prepare for BERT update - BERT stands for "Bidirectional Encoder Representations from Transformers." It is the latest Google core update aimed at improving the language understanding capabilities of Google. Google's BERT update improves how Google understands search queries. It comprehends the intent of the searcher behind a search query. Optimizing websites to the questions in the natural language format is what you must aim to achieve in 2020 and years to come. Refer to Google's "Natural Language" page to know more as to how the algorithm sees it.

Content cluster – Content cluster is a new concept in SEO content strategy that goes beyond merely inserting keywords in the content. Instead, it is a strategy where content pages are created to improve the user experience and boost search performance. There is a pillar page that serves as a hub of your cluster. Then there are cluster pages that are linked
internally to and from a cluster's pillar page. And, the internal linking serves as the glue that holds everything together. And when these blogs connect to a page on your website that could turn into a keyword monster. Your aim should be to create content for people and optimize it for Google. Try to write and publish as often as possible, but not at the cost of quality!

Use More Long-Tail Keywords in More Targeted Content – Focusing on long-tail keywords is a great SEO tactic. Long-tail keywords have better conversion rates, and the average conversion rate of long-tail keywords is 36%. Using long-tail keywords in your content ensures that your content answers real user queries. Do not worry about keyword density. Instead, take into consideration that Google keywords should only be used when it makes sense for people that read your text.

Optimize for questions – Taking the future voice search trend into account, consider creating content that answers simple questions. When users conduct searches on voice search, most searches are in the form of questions. When a user searches for something on a smartphone or a computer, they write the keyword in short, for example, "SEO company Melbourne." But when they use the voice search feature, they might say, "Which are the top SEO companies in Melbourne?". Therefore, it is vital to structure your website content in a way that you answer all the queries your prospect or potential customer may ask.

Build internal links - Internal linking boosts underperforming pages. Why are they important? Because they aid the flow of "authority" around your website. An ethical internal link building strategy not only improves your search rankings but also speeds up indexing. The added benefits include better click-through rates and conversion rates.

Meeting Google's E-A-T standards with niche content - Google's E-A-T approach looks for Expertise, Authority, and Trustworthiness of a website or a content page. For example, you have a blog, so Google wants to see who the author of the page is and what their credentials are concerning the subject matter. It looks for the expertise, authority & trustworthiness of the author as well as the website. It's Google's way of protecting searchers from low-quality content that has the potential to be detrimental to a searcher.
Optimize on-page SEO – On-page SEO means your Meta Titles, Meta Data, Images, H1s, Category Descriptions, And Product Descriptions. The meta title, URL, and description are the three critical ingredients for an optimized web page or blog post. It's simple but effective. All on-page SEO factors are essential to get right, but meta descriptions and metadata means you can tell Google exactly what you're talking about.

Image optimization for visual search – Visual search is a crucial part of attracting leads and helping them convert. As the heading suggests, it's quite clear that the system uses images metadata, i.e., the name, alt tag, description associated with the image indexed in its database to find a match to a query.

Create quality Backlinks - Backlinks are an essential aspect of SEO because they help to build your website's domain and page authorities, which directly contribute to search result rankings. High-quality backlinks improve your search visibility and are still the most effective way to increase SEO rankings and traffic.

Conclusion
SEO is essential for every business entity which has an online presence. SEO is a long-term strategy, regardless of your business size, nature, and industry, you must invest your efforts in this long-term strategy for lead generation and better conversion. Keep up with these SEO trends in 2020 to avoid getting left behind. If you still have questions and need help with SEO services, speak to one of our SEO experts today.