Many businesses spend the majority of their money and time on acquiring customers. But what about those long-standing customers who consistently remain loyal to a brand? Did you ever compared how much time, efforts and money does it take for a small business to generate leads and gain a new customer to retaining existing customers? Studies show that it costs ten times more to attract a new customer than to keep one. So, for small business owners and digital marketers it makes sense to invest one portion of all your efforts & resources towards delighting & retaining current customers so they become repeat loyal customers and your promoters too.
And we agree to the fact that "Happy customers are your best advocates".
Customer retention is one of the most critical challenge that businesses are facing today. That's where inbound marketing plays a pivotal role. But there is a common myth surfaced around Inbound marketing that it's all about generating new leads for your business online, but is untrue. The truth is, that the inbound methodology also includes delighting and retaining existing customers.
The role of marketing today is as much about delighting existing customers as it is attracting new ones. You want to make sure customers have a great experience using your product or service so they not only become repeat customers, but ideally, spread the word through referrals or social media and become your brand promoters/ambassadors.
Why Inbound Marketing?
Inbound marketing is data driven and multi-channel approach that works as a magnet to attract people to your brand, engage them and convert them to repeat customers. It accounts for where people are, and how they want to interact with you using the main driver of quality content. It allows you to bring visitors into your site through various forms of channels like blogs, email marketing, and social media. The delight stage helps you nurture customers into promoters and advocates for your brand.
But how do you delight them?
Simply by keeping them engaged, continuing to be helpful, and continuing to support them with content that informs and adds value. Apply your humanity to your business personality. Build real relationships with your clients. Personalise all your efforts. Go a step further in your content marketing efforts and educate your customers with valuable content offers that helps them accomplish challenges further down the road.
How small business can use inbound marketing tools & strategies to delight customers?
Create Customer-Centric Content
Customer-focused content is one of the most effective ways of keeping your existing customers happy. To fulfil your customer's needs, use smart content and smart CTAs to provide resources that are relevant. Customer-focused content creates an emotional connection. Create content that can help them get the most out of their relationship with you and your product.
Smart CTAs
Every page on your website needs a call-to-action (CTA) to guide visitors to the next step in your conversion path. The CTA is the difference between someone visiting your site and leaving no trace other than their IP address and a conversion, earning insight and permission to communicate with them in the future.
Build a Relationship Through Social Media
The relationship between businesses and customers has evolved a great deal with the rise of social media. Find out which social media platforms your customers are more likely to be engaged on and find creative ways to interact. If you are not connected with your customers on social media, you're missing out on opportunities. Brands should learn how to interact with people in a way that they enjoy. If you engage with fans and share valuable, entertaining, or informative content that is suited to the platform, people will be more than happy to have you on their timeline next to friends and family.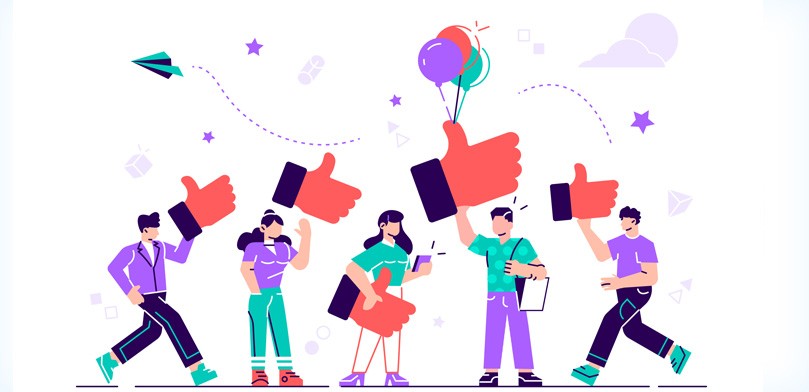 Provide relevant content
You already know the critical information about your customer in the buying process. Use what you know to provide them with helpful relevant content. 
Stay connected with email marketing
Email workflows are great for reaching out to existing customers. Why not make it super simple for them to provide a review of your business online? You can reach out to your database of customers using email workflows. It will not only help you nurture relationships but you can also establish a human interaction. Remember, each campaign should have its own singular goal with one call to action.
Continue to be helpful in every possible way
Using your expertise and in-house resources, continue to provide information that your customers are looking for. Be it related to your products, services, or questions related to latest trends etc. The information can be in the form of blogs, webinars, eBooks and emails. With all this shared knowledge you are building trust with your customers and you will be a brand they want to promote.
Use recognition
Connecting with your customers on such a personal level is powerful stuff. No matter what product or service you're selling, it's the experience customers remember long after their purchase is complete. Taking the time to recognize, thank, or congratulate your customers goes a long way in building relationships. This can be as simple as sending a coupon, a birthday acknowledgment or an invitation to an event. Making a personal connection with customers can cement your relationship like nothing else. Not only will they rave about you to their friends, they'll be more likely to think of you first the next time they're shopping.
Analyse your campaigns
Look back at your campaigns and find out what was your customer's reaction to it and how did they receive it. If something did not work out as you thought it would, how can you make it better this time? Ask your customers for feedback as to how can make it better.
Deliver what you promise
It's the business rule number one – deliver what you promise. If you are a business owner, you should be doing all you can to induce this trust in every customer you deal with.
Enhance Customer Collaboration
Customers can become better clients when they learn from situations just like their own. Empower your customers to work together by building a community between them. Facebook groups and online forums are great ways to build communities within your customer base.
Final thought!
Regardless of whether you're in marketing or sales, it's easy to focus on attracting the next lead or sale. Don't forget to stay focused on delighting existing customers! Your customers hold the power to influence others in the buyer's journey. The goal of inbound marketing is to build a mutually beneficial relationship between brands and customers.
If you're looking to grow your business or you're struggling to relate to and retain clients — or you just want some more top-notch customer delight examples — give us a buzz and let us help with a customised lead generation strategy.