How exciting it is for businesses to get all the reports of all the social media campaigns including Facebook ads, Google AdWords all in one place. There are millions of Google analytics users around the world but very few know the detail reporting of Google AdWords.
To achieve a higher success rate, businesses require finding out how customers are responding to them and what are the best practices of their customers. Google Analytics dashboard is the best way to track it. This dashboard is user-friendly and simple that squeezes everything in one including SEO, social, referral traffic and more.
It's very surprising to know that you can have up to 20 dashboards with 12 widgets on each. The cracking part is you can create those dashboards with only the metrics you care about- and then analyze them all on one screen.
We gathered the top seven google analytics function to enhance your business:
General Analytics Dashboard
SEO analytics
4 Social media analytics
Geography dashboards
Mobile analytics
Entrances/ exits
Technical Dashboards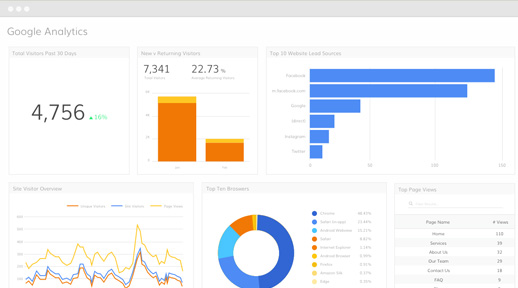 Google Analytics Funnels
The businesses are very competitive, and who will not like to calculate their wins? But the journey is not very easy. Customers walk through the whole process to get converted. But what is this process? What are the overall goals for your website?
This was all about your successful customers, what about the unsuccessful ones? Why did you fail to gain them? How will you fill the loopholes?
To stay up to date with this information is very important and Google analytics funnel helps website users take specific paths from start to finish, and every site has a goal for its visitors. Google Analytics funnels track this journey so that you can optimize your website and ensure visitors hit your goals.