One of the most critical factors that convert a website visitor into a lead or a paying customer is TRUST. That's what every business aims to do. To retain them as regular and repeat customers, you must earn their trust. When customers trust you, your sales will grow – and that's true for brick and mortar shops, eCommerce websites, as well as digital businesses.
So, what makes people trust a website? How do you ensure that your website visitors trust your business and convert into a paying customer? Which trust factors can you include to promote your reliability as a business?
Well, there are many things you can do on your e-commerce website to increase visitors' trust and boost your conversion rate.
Here's the list that you need to make sure your website has all of the items:
Testimonials, Awards & Certificates:
Humans seek recommendations, and this goes for business also. When people want to decide on a product or a service, they will seek advice from friends, family, peers, experts. Testimonials are one of the credible sources to build trust, as they are associated with real people. Another significant trust factor is certificates and awards that show you are a respected business with notable achievements.
You can also build website credibility by providing third-party support, certificates, and citations like the google rating badge, secured connection certificate, etc. Not every visitor will follow these links, but you've
done your part. It shows your confidence in your work. Response from real people give prospective clients a glimpse into the customer experience and can help encourage undecided potential customers to convert. It allows users to feel more secure when browsing your website and filling out personal information about themselves.
Website Design
Your website is the first point of contact for many potential customers. There are plenty of visitors who evaluate a website or a landing page by its visual design alone. Webpage design creates the first impression, it is the first contact/interaction with a visitor, and it has to be appealing and attractive.
Neat & professional web design ensures a visitor your business is legit and not any double-dealing operation that could eventually disappear.
A professional web design adds to your trust factor, and it establishes credibility with your visitors even before they interact or browse your website. So, when you design a website, pay attention to layout, typography errors, illustrations, consistency issues, and more. Non-professional looking websites kill trust, invest in a quality designer.
Show that there's a real organisation behind your site:
A physical address is the most significant proof of it. Posting a physical address on your website 'Contact Us' page or in the footer will help you gain your customer trust. Other features such as posting a photo of your offices or listing a membership with repute organisations.
Highlight the expertise within the organisation:
If you have experts on your team, for example - your contributors, service providers, authorities, partner organisations, affiliations, and all, be sure to give their credentials. Make that clear on your website. Do not link to any website or authority that is not credible. Associating with such websites or sources will make our website less credible.
Make it easy to contact you:
If your contact information is readily available on the website, it will boost your site's credibility. Information such as - email, phone number, postal address etc. Knowing that customers can contact you, an actual human, in case of any query or an issue and allay fears of inadequate quality or service.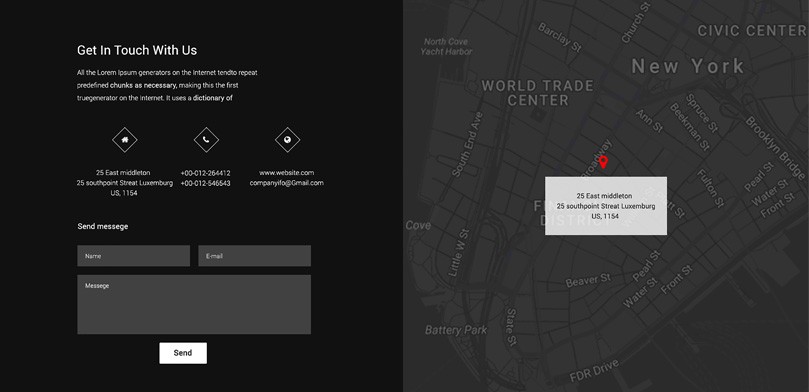 Website Navigation:
Is your website easy to navigate and easy to understand? If not, you're losing business. Website navigation is essential for good user experience. Customers are always in a hurry; they will spend very little time looking for the information they needed. If you can guide customers through your website with ease, it will help increase your conversion rates.
Website navigation needs to easy and intuitive - but it doesn't need to be boring. Research shows that the websites that are both easy to use and useful win credibility points.
The website navigation system is a vital part to ensure usability, and most importantly, it should help your visitors find the content they're looking for quickly, without fuss.
Social Media:
Social media indicator buttons are one of the best trust-building tools for companies. It lets businesses interact with existing customers on various platforms. With these links, you also show prospects that you have a responsive company that will promptly address any user needs or concerns.
Also, having social media indicator buttons next to any sharable articles shows that people are interacting with the content you publish.
Update your site's content often:
The websites that regularly update their content are considered more credible. If you have a blog section, post regularly, 2-3 posts per week is standard.
Use restraint with any promotional content:
Distractions kill interest. As far as possible, avoid having ads on your website. No one likes those bright blinking banners and pop-ups. People will associate it with spam. If you must have ads, display them in a professional manner and in a way that they are not distractive. Clearly distinguishing the sponsored content from your content is better.
Avoid errors - of all kinds - no matter how small they seem:
Nobody likes to encounter an error, or a mistake, be it incorrect spelling, errors, or broken links. These errors may seem small, but they do hurt a site's credibility more than most people imagine. It's essential to keep your site error-free, fast, and functional.