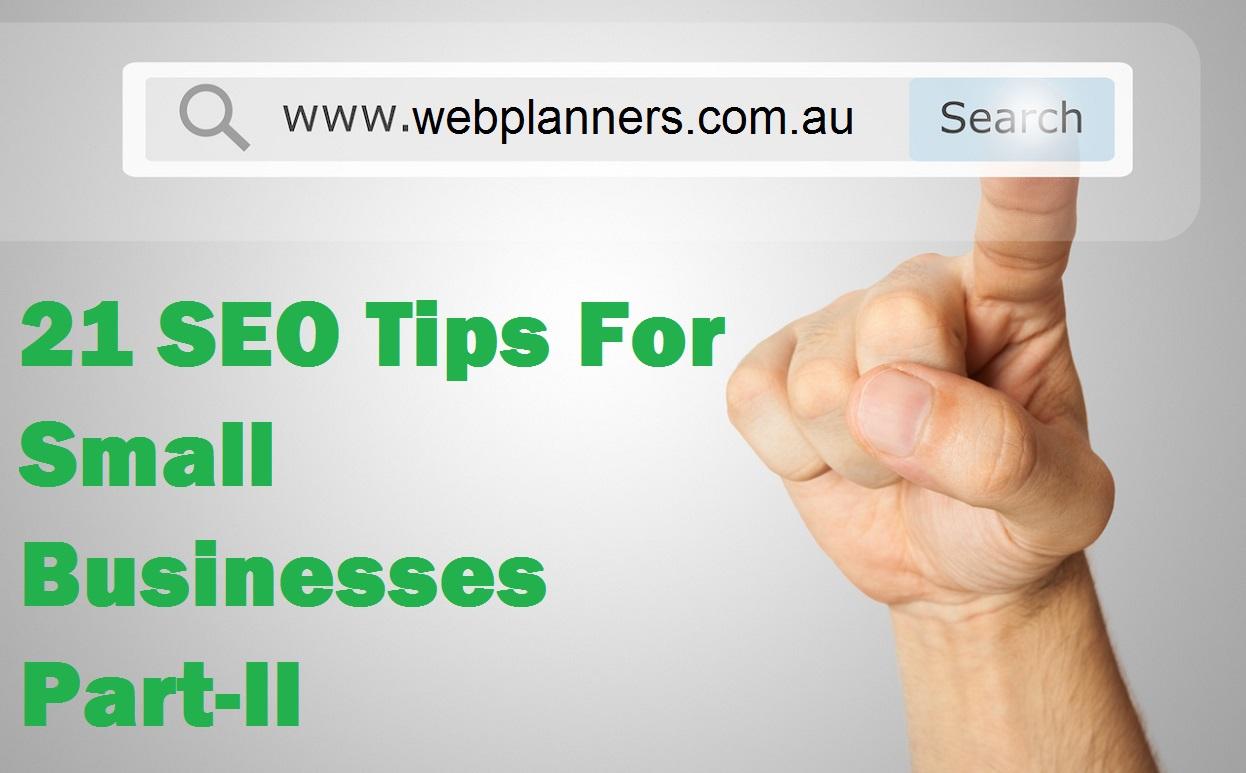 We have seen 21 SEO Tips for small businesses in part I. Now we see some more tips that will help us to provide in details information on SEO Services Melbourne. With respect to ranking your website, SEO of small Business website will also depend on strategies that are used by mixing and matching of On-page and Off- page optimisation. Let's see more 21 SEO tips for small business:
22. Indexing of Stop words: As your SEO expert Melbourne need to know that Google doesn't index stop words like and, but, the, an, a etc. These words refer to the common words in the content or used in a language. You will see n number of words and there are no universal lists for these stops words.
23. Visible Contact Information Page: Yes, you must ensure that your website needs to have a visible contact information page. Easy contact details can help to find your business i.e. that includes physically address which the important part and contact numbers to get in touch with you.
24. Privacy policy and About us pages: When it comes to build trust for your visitors, privacy policy and about us pages are key pages that works for both users and search engines.
25. Use of www: SEO Services Melbourne needs to ensure that website needs to be accessible and indexed either by www or by non www. Preferred domain needs to be set in Webmaster tool to get the exact report of website. This is the best practice that is followed in SEO techniques.
26. One keyword each page: You need to work with one important keyword to target your each page of website. You need to see to that you avoid using one keyword targeting multiple pages of website. This will not give the expected results.
27. Know your Competitors keywords and use them: Yes, when you are working out with keywords, the first thing you do is to understand what keywords are used by the competitors and get the ranking of each keyword. You get to know which keyword is driving traffic to your competitor's website.
28. Tracking your website ranking: it is necessary to monitor your website ranking in the search results for your targeted keywords. Find lot of free SEO tools you can track your website ranking.
29. Monitoring Click through rate: SEO Expert Melbourne needs to keep an eye on Click through rate so that you get to know which keywords help in ranking your website that you expect to see a click through rate. Google Analysis can get you the in detail report for CTR to check impression and CTR across wide range of queries.
30. Use of Google Console: Get the real time data and report on website, keyword ranking and get other detail view when you login in to Google Console.
31. Create content for visitors: SEO Expert Melbourne knows that there is no point in creating content just for ranking or primarily for search engines. The content on website should be for visitors and not for search engines.
32. Adding
tag:
All the WebPages needs to have an
tag. The
tag needs to summarise the content of the page and should be similar to the title and should have keywords included in
tag.
33. Meta Robots: Use a Meta Robots tag is included the Head section of every page to tell a search engine your preference for crawling and helps in indexing individual pages.
34. Adding sitemaps: Add Site map in form of XML sitemap at the backend of the website. The XML documents can help to transfer to mobile and tablets.
35. Linking Content: Link out high quality and subject related content aids relevance that builds good relationships with other websites in your niche area. The best trick is to open external links in other window.
36. Keeping content updated: It is always good to keep content up to date, archive old data and see to it that web content is fresh, relevant and rank worthy.
37. Set up the structure data: Set up and test structured data of website to benefit from rich snippets in search results. This will keep up your website data in proper way.
38. Adding ALT Attribute: SEO Experts Melbourne always includes an ALT attribute on your website images so that it can strengthen the targeted keywords and subject of your web page content.
39. Website should be content Centric: SEO Services Melbourne needs to see that the website content should be compelling and using keywords helps you to strategically convert your visitors into customers. Using keywords in titles and headlines will surely help your content to match in search query and get the large traffic for website.
40. Blogs: Having a blog section is first and foremost an awareness means that will direct to micro-conversions, like as social media sharing, page visiting, etc. These conversions are vital as they keep your in front of your customer when they are in need of your product or service you offer. Blog helps your website to index the pages and also get more leads.
41. Adding Graphics: Graphics act as a queen in your website. They attract more traffic and increase your CTR percentage. This is visual engaging content that helps to get crowd on social media channels or platforms. There are many free images available online you can get some mix and match done get your amazing videos, images or pics go viral.
42. Trim your fat: Adding Canonical Links will surely help your website with lot of products. The canonical link component is to set chosen Website URL for pages with similar content.
With lot of tips and tricks that I have mentioned here will surely help you to organise your website and improve the website ranking. When you hire the best SEO Services Melbourne, ensure that you get all the details that are related to your website. Get your all doubts cleared on table in first meeting. What is needed to improve your website ranking and what you actually have, this difference an expert can let you know accordingly? Rest, Relax and let the SEO Expert Melbourne work for your website. Contact Webplanners for consulting your business for improving online presence.