Conversion is pretty much the life and blood of digital marketing. You run a marketing campaign to drive traffic to your website and turn them into paying customers. You run a campaign in the hopes that people will do what you want them to do and eventually produce profitable revenue for your company.
But if you are getting traffic to your website, which is excellent, but if that traffic doesn't convert, it's almost useless. One thing we must understand is that conversion doesn't just happen - we need to optimise for it.
Increasing your conversion rates is crucial because it is the foundation of high sales volume. Conversion rate optimisation is a very few marketing strategies that can increase your sales without spending more on advertising and content marketing.
Are you looking for ways to increase conversions at every stage of your sales funnel? This post outlines ten winning ideas and strategies for turning your website visitors to take any action that you want - filling out a form, handing over their email address, or becoming paying customers.
Do A/B Testing
A/B testing is the key to a highly converting website. What works for one website may not conform precisely to the other website. There's no one-size-fits-all kind of approach here in Conversion rate optimisation. Each business niche and audience are different. Figure out what works best for your business, and then execute it.
Bring out your scientific self and get to work. Analyse each element of your marketing campaign and its possible variations. Experiment with your images, email subject lines, headings etc. Then subject them to testing with A/B tests and A/B/C tests.
Use Content that Suits Your Specific Audience
Aim to create content that attracts traffic. It signifies that the reading and comprehension level of your content should match the people you are targeting. Write relevant, useful, and valuable content to supplement your products or services. It includes writing valuable content on your landing pages and using blog content to educate, inform, and engage your target audience. It will also help to increase organic search traffic.
Also, test out various content lengths. Depending on your niche, product, and audience, the short content may outperform a long content page (or vice versa). Be sure to test all lengths to see what works best with your audience.
Use testimonials
Testimonials are a significant trust factor. No one wants to be the first to buy a new product or service. So, you can use these testimonials and reviews from previous clients to put their mind at ease.
Testimonials act as social proof and reduce risk. Use them on your best-performing product pages, landing pages, as well as on your email opt-in landing page. Ever heard the statement 'Facts Tell, but Stories Sell'? It's true with testimonials and reviews. Testimonials are way more potent than just a list of features.
Optimise for mobile devices
By now, you have no excuse for your campaigns not to be mobile-friendly. Today, mobile devices account for the most considerable portion of internet traffic. And it's only growing day by day, year on year. If you do not want to miss out on the opportunity, many potential clients, you need everything you have to be prepared for perfect viewing, whether on a smartphone, tablet, desktop, or any device. 
Use Calls-to-Action (CTA)
Calls to action are one of the essential elements in digital marketing. Embrace strong calls to action (CTAs) into every piece of content on your site. To boost conversion, you need to include links and images that attract and lead people to transformation. And then A/B test to check its efficiency.
Buttons are more prominent and more clickable, particularly when viewed on mobile devices. Let your readers know (with call-to-action buttons) precisely what you want them to do next, whether it's clicking a button, reading a blog post, or filling out a form.
Optimise your Forms
Your conversion strategy success depends mostly on a robust lead generation campaign. In the majority cases, this involves filling in some form. Designing a form may look simple, but it's not. The number of fields, the text on the button, the colours, etc. are just a few of the elements you will need to optimise and study to get the best results.
Remove all unnecessary columns, keep only the ones that are essential to accomplishing your goal. More fields mean fewer people will fill it out. Incorporate sign-ups via Facebook or Google account; that's the easiest. Don't ask for anything that un-necessary to know to fulfil the order.
Don't forget to include some automated filters to ensure the data you are being given is valid and real.
Also, include a privacy statement on opt-in forms. Your privacy policy can have a considerable impact on your email conversions.
Add Live Chat to Your Site
The good thing about today's technology is that many available chat tools are very affordable. Offer live chat to help answer queries and relieve any concerns potential customers may have. It will also reduce the overhead needed to staff up a live chat.
Here's what chatbots can do for you:
speed up response times and answer 80% of routine questions
work 24/7 without a break
save up to 30% in customer support costs
Use Social Media
Social Media platforms are a fundamental piece in any online marketing strategy. Still, there is no use in creating corporate profiles if you don't plan on having a content plan and coherent strategy.
People today, especially millennials, rely on their social networks to seek advice, reviews, recommendations, and referrals.
They expect businesses or brands to be available for questions on Facebook, Instagram, and Twitter, etc. So, if you want your brand's social profiles to help you convert more, you will need to integrate them into your communication seamlessly.
Make it Easy to Contact You
Your business contact information - email, phone number and postal address - should be readily available to customers who many need any assistance or are facing any issues related to your products and services. Each person has their communication preferences, and what may be intuitive and straightforward for some may be extremely frustrating for others. Be available via phone, form, chat, email etc.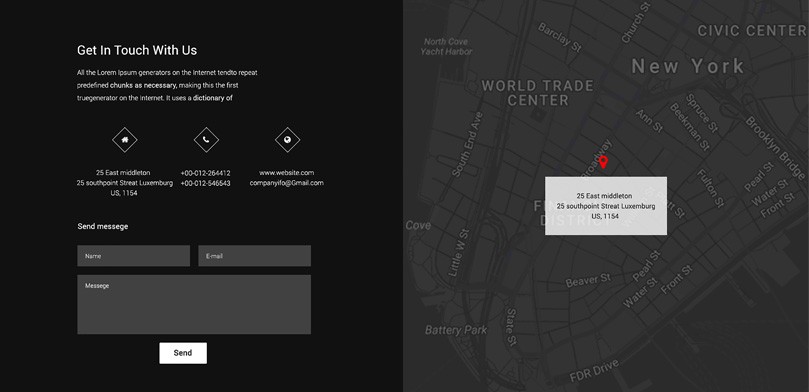 Remove Distraction
It is crucial. You do not want to pull your site visitors in too many directions. You want people to focus on a single action and not be distracted from it.
When creating a landing page, remove all distractions, anything that could potentially distract him from taking action.
Landing page should be crisp, clear, concise and easy-to-navigate. It should be designed to convert a visitor into a prospect. Stick with what your visitors need to know and nothing else.