Comprehensive, informative and valuable content is crucial for your website. It gets more and more people to your webpages. But that doesn't mean it will rank well in the search results. If your content is not structured well and doesn't cover targeting keywords, the chances of it appearing in the search engine results are very low.
So, your role is to not only make your content incredibly good but at the same time structure it in a way that makes it easier for Google to identify & determine the value or the information you are sharing.
One approach that has grown insanely popular is the content cluster. Suppose you optimise these content clusters and pillar pages. The pillar pages on your website tie content cluster together for a related topic. These pages are comprehensive and cover the core topic and then break it down into sub-topics known as content clusters.
The core foundation of these pillar pages and content clusters is backed by extensive keyword research and competitive content analysis to identify opportunities to compete for a keyword to rank in top 10 search results.
To get the desired conversion rate, you need traffic. Before creating strategies for better conversion, you need to think of ways to get more people to your website. If you consider pillar pages as one of the robust traffic generation strategies, then here are some tips to ensure your website gets enough traffic.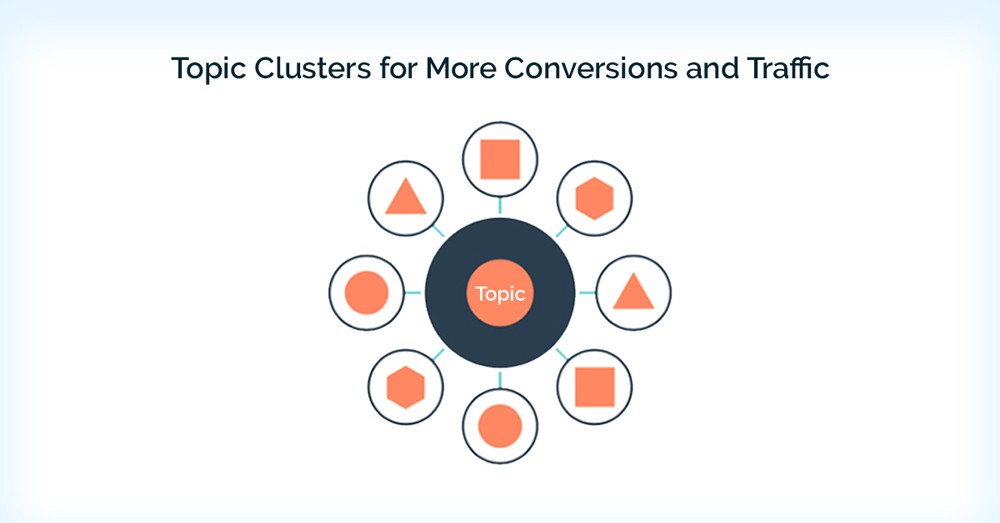 How to improve traffic?
Optimise your pages:
Optimise not just your pillar pages but all the pages on your website. In a content cluster approach, you should be guiding your content ideas by doing thorough keyword research. And then do a competitive analysis to check what you are competing against.
Once you have created the content, keep reviewing it and check if you can dig deep into the subject matter to provide the most comprehensive information.  
Use the content cluster model:
The way these content clusters and pillar pages are constructed matters. The page architecture helps search engines to recognise content for a number of keywords that you have optimised for. And this is achieved by interlinking (with relevant keywords) your cluster pages with the central pillar page.
This structured architecture makes you appear like an expert for a given topic in Google's eyes. It provides more content to search engines to pull relevant information, helping your page rank higher and reaching more audience.
Building backlinks:
After optimisation and architecture, building backlinks from reputed websites is another strategy that proves the value of your content. Acquiring healthy and legit backlinks from relevant webpages is beneficial for improving traffic.
The gamble here is quality vs quantity. A few backlinks from reputable websites are far better than hundreds of backlinks from a low-tier spammy website.
One great way of building quality backlinks is through guest posts. Guest posts allow you to get in front of the new target audience by writing relevant and useful content.
How do you improve conversion with content clusters & pillar posts?
Now, after the optimisation, you are ranking high in search results, and you are getting enough website traffic, but is it converting? High traffic is meaningless if you aren't getting any leads from it or converting any of it.  
That is why you need to formulate a conversion strategy to create various touchpoints to encourage website visitors to engage with your company and take action that you expect.
Here are a few points that can help you improve conversion:
Get their Email ID:
Most of your website visitors won't convert in the first interaction itself. But that doesn't signify they are not interested. They might need one or two follow-ups before they make a purchase.
If you write comprehensive and informative pillar pages, they can be a great way to get email addresses and get prospective customers in your funnel.
The readers trust you as you are providing them extensive information around a subject and they value your content- so, it is easy to direct them to provide their email addresses for next piece of informative content that you plan to create.
Add relevant CTAs (call-to-action) in your content:
Your pillar page content must include CTAs that prompts the readers to continue interacting with your webpage. Craft your call-to-actions accordingly, keeping in mind the purpose of your goals. It can be to subscribing to your blog posts, signing up for your podcasts, downloading a file, following your social media accounts, subscribing for email subscription, etc.
Use Chatbots for engagement
Most of the websites are using these chatbots to offer a quick answer or solution for common issues and frequently asked questions. If they stay on your website for a considerable time, either they are engrossed reading your content or are looking for a solution.
A chatbot is an AI-powered method to engage with our website visitors. They are built to imitate like a real human interaction. It is easy to rotate through common questions about your products and services.
They also open up the opportunity to set up a real conversation with a salesperson, who can really drive those conversions home.